The Schedule is part of ProdCalc and is used for charge creation and handling.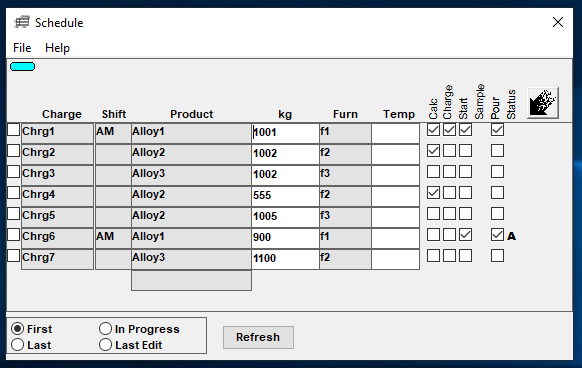 Create a new Charge by selecting a product in the last row in the Product column.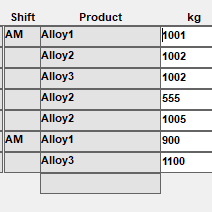 Enter the mass of the charge in the kg field, select preferred furnace, enter target temp (if applicable) and click save.

The charge is now available in the schedule for further action.

Right click a charge number to display the menu where you can select to perform a Calculation with ProdCalc, Enter the actual Charging mass, perform charge Actions, change the Charge Number, Print, View, Copy and Remove a charge.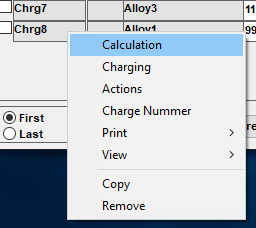 Calculation with ProdCalc is covered in ProdCalc section.
Charging allows you to enter the actual mass of source materials added to the furnace.
Actions allows you to Start and Pour the melt, enter Temperature, change Product, set the Finish State of the melt and store Notes.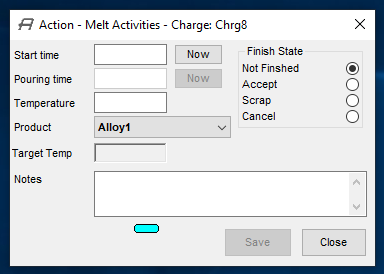 Charge Number opens the dialogue to change charge number, note that this may break your configuration.
Print the current charge or checkbox selection.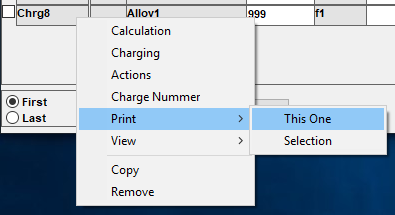 View Charging masses, 1'st, 2'nd and Last Adjustment Calculation and View the imported analysis.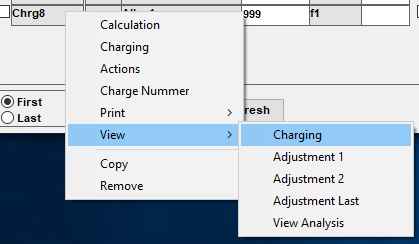 Copy creates a new charge with the same product and mass.